!!! BRAND NEW !!!



POP-UP SHADE
2.2" ( Inches )
Clearly View Your Screen In Sunlight
Fits Camera With Up To A 2.2" LCD
FITS MOST 2.0" TO 2.2" LCD SCREENS
IN ORIGINAL PACKAGE
FULL FACTORY WARRANTY
MADE BY

The Digital SLR Professional is designed to attach to your camera using the existing eye piece and slots around your display. It easily snaps on and off, and features an optical clear glass to protect your camera's screen. The simple pop-up design allows for easy opening to block the glare.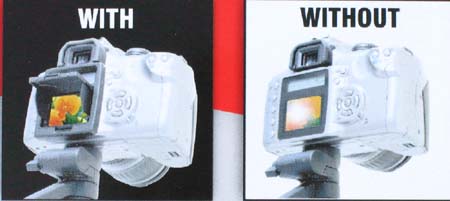 Key features
Clearly View Your Screen In Sunlight

Protects Your Screen From Damage

Easily Attaches To Cameras
Pop-Up Shades - FAQ
Q-How does it close?
A- Fold in the two flaps and push down the shade.
Q-How does the mini stick on, and does it leave adhesive residue?
A-The mini attaches to your camera by removing the backing and pressing the adhesive down onto the camera body. It does not damage your camera with residue, stickiness, or scratches.
Q- My hood detached from my Point and Shoot mini Pop up Shade, is it broken?
A- No. The shade detaches from the base so that you can remove the shade and still use the LCD protector.
Q- Why is my screen foggy and hard to see through?
A- Each screen comes with a protective film that prevents it from scratching during shipment. The film must be pealed off before use.
Q-If there is not a Pop up Shade for my camera, will another model's shade fit my screen?
A-Unfortunately, each Pop up Shade is made specifically for certain camera bodies. We can not guarantee that different models will fit cameras other than the ones they were made for.
1 YEAR WARRANTY