!!! BRAND NEW !!!


FILTERS
TWIN PACK
UV PROTECTOR AND ND 0.6 FILTER
58mm Size
"Filter case included"
In Original Box
Made By
In
U.S.A

58mm Size
TIFFEN UV Protector Filter
TIFFEN UV Protector Filter

58mm
UV Protector
Protects your camera or camcorder lens against dust, moisture, fingerprints, scratches and damage. This filter can be kept on your camera at all times.
Most popular protection filters
Provides basic reduction of UV light
Reduces the excessive bluishness that frequently occurs in outdoor color photography, especially in open shade under a clear, blue sky.
The absorption peak is in the range which corresponds to the film's green spectrum. This means outstanding outdoor shots with superb color balance and clarity under all conditions. Also keeps skin tones free of colored reflections from nearby objects such as the shade of trees.
Constant use will protect your valued lenses from expensive front element damage which could be caused by dirt, knocks or scratches.
**Recommended For Constant Use As A Lens Protector**
| | |
| --- | --- |
| Without UV Filter | With UV Filter |
| | |
Neutral Density Filters
TIFFEN Neutral Density Filter

58mm
Neutral Density Filters
These filters reduce the amount of light passing through the camera lens without changing the color of the scene. They are especially useful in bright light conditions to help prevent overexposure. Neutral Density filters also allow proper exposure at a wider lens opening for reduced depth-of-field to highlight a key subject by making the foreground and/or background out of focus.
Eliminates overly bright, washed-out images
Balances exposure
Controls depth-of-field
Allows slower shutter speeds to produce blurred motion effects
SAMPLE PHOTOS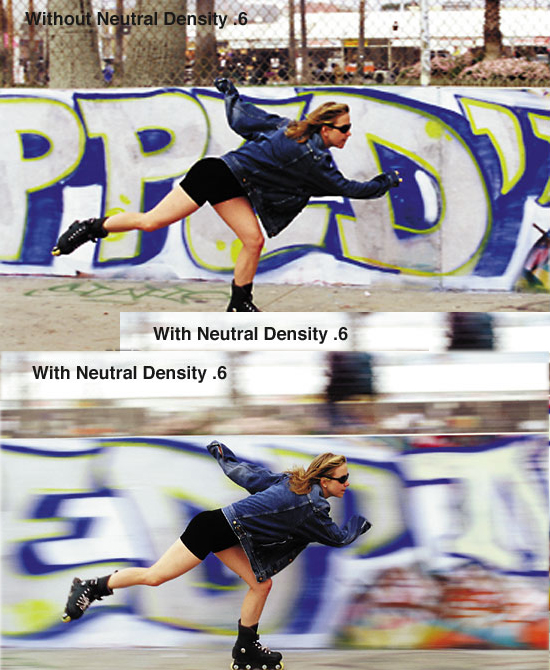 Description
High Quality TIFFEN Filter ND 0.6

High Quality TIFFEN Filter UV Protector

Coated Filter

FILTER Color : Black

FILTER Size :

58mm

Anti Reflection Coating

High Speed Auto Focus

Filter case included

Made In U.S.A
10 YEAR WARRANTY