!!! BRAND NEW !!!


P R O F E S S I O N A L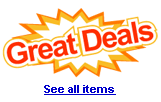 VERTICAL BATTERY GRIP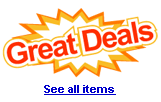 FOR
CANON 7D DSLR
Made By


FOR USE WITH CANON 7D ONLY
Features
The BOWER XBGCD7 Battery Grip Includes An AA-Battery Magazine That Allows You Place 6 AA Batteries For Extended Shooting Time.

It Also Holds 2 Canon LP-E6 Batteries For Twice The Power.

XBGCD7 Grip Mounts Through The Camera's Battery Compartment And Screws Into The Camera Bottom Tripod Mount.

The XBGCD7 Grip can also be mounted on a tripod via the 1/4" tripod thread mount on its underside.

Vertical Shooting, Shutter Release, Main Dial, AE lock/Index/Reduce button, AF Point Selector/Magnify Button.
Specifications
Holds 2 LP-E6 Batteries.
AA-Battery Magazine (I
ncluded)
Color: Black
Shipping Weight: 1.3 lbs (pounds)
3 Year Limited Warranty