!!! BRAND NEW !!!



eTTL2 Cord / iTTL Cord RS-0420/EOS
• For Canon EOS Cameras (3.5m Release)
• For Canon eTTL2 flash systems
Four Position Flash Bracket Left Hand, Right Hand, Vertical & Horizontal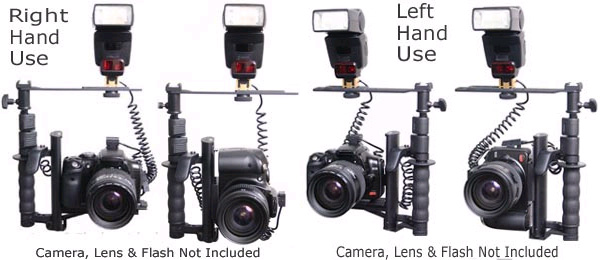 Compatible With The Following Models
| | | | |
| --- | --- | --- | --- |
| EOS Digital Rebel | EOS 300D | EOS ELAN 7/7E | EOS Elan IIE |
| Digital Rebel XT | EOS 350D | EOS ELAN 7NE | EOS IX Lite |
| Digital Rebel XTi | EOS 400D | EOS Elan II/IIE | EOS Rebel 2000 |
| EOS Rebel XSi | EOS 450D | EOS Rebel T2 | EOS Rebel G |
| EOS Rebel XS | EOS 1000D | EOS Rebel Ti | EOS Rebel GII |
| EOS Rebel X/XS |   |   |   |
Features:
This cord allows a dedicated flash unit to be mounted "off-camera" and to maintain all of the dedicated functions
of the flash and the camera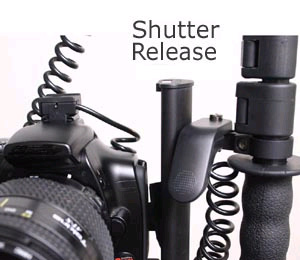 Installing the Cord
• The foot of the unit slides onto the accessory shoe on the camera. Note that the locking pin will hold the foot in position.
• The base of the unit either has a 1/4x20 mounting thread, (RS-0420) designed to be used with a flash bracket, or a standard flash accessory shoe (RS-043X Series cords)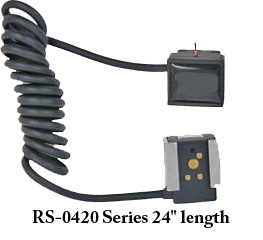 Using the Cord
• Mount the foot on the camera and the flash directly onto the female dedicated shoe. Operation is the same as when the flash is on the camera.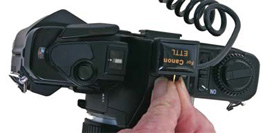 Removing the Cord
• As shown in the picture, grasp the lever with the thumb and forefinger and lift straight up. This will release the locking pin and allow the shoe to be slid off the camera shoe.