!!! BRAND NEW !!!

UNIVERSAL MINI SOFTBOX STUDIO
Diffuses the flash light for more natural pictures.
Eliminates harsh shadows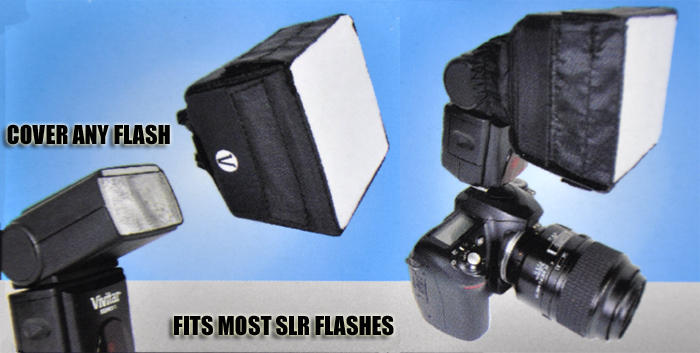 This diffuser for speedlites features the well recognized design of a softbox and produces the soft, big light that softboxes are famous for resulting in a significant improvement in the quality of flash pictures taken with it. Eliminates harsh shadows and produces a more natural result. Designed to fit all shoe mount speedlites on the market today. Folds flat for easy storage.
Features
3.5 x 3.5" Opening
Fits most shoe-mount flash units
Folds flat for easy storage
Silver Reflector Interior
WILL WORK WITH
| | |
| --- | --- |
| Sigma: | Sigma 500 Series, Sigma EF-500DG, EF-500DG Super, Sigma EF-500 DG II, EF-500 Super II, EF-530 DG SUPER |
| Canon: | 580EX, 580EX II, 550Ex , 540EZ, 430EZ, 420EZ , 430EX, 430EX II, 420EX, 380EX, 520EX ,300TL, 580EX II, 430EX II |
| Nikon: | SB24, SB25, SB26, SB28, SB28DX, SB50DX, SB80DX, SB800, SB600, SB900 |
| Minolta: | 5600HS, 5600HS(D), 3600HS(D), 3500xi, 5400HS, 5400xi, 5200i |
| Metz: | 40-MZ-2, 44 AF-4, 40 AF-4M, 54 MZ-3 , 44 MZ-2, 54 AF-1C, 54 AF 1N, 44 AF-4C, 44 AF 4N, 54 AF-4i, 54 MZ-4, 40 MZ-3i , 54 MZ 3, 54 MZ 4, 36AF Metz: 45 CT-1, 45 CT-3, 45 CT-4, 45 CT-5, 45 CL-1, 45 CL-3, 45 CL-3 |
| Sony: | HVL-F32x, HVL-F1000, HVL-F36AM, HVL-F42AM, HVL-F56AM, HVL-F58-AM |
| Olympus | FL40,FL50, G40, FL36, FL36R, FL56R |
| Vivitar: | 2500, 273, 3500, 5200, 550 FD, 728AF, 836, 840AF, 850AF, DF200, 285HV, 2700 |
| Achiever: | 260AF, 260T, 630, 828, 828TW,TZ250 |
| Pentax: | 330FTZ, AF500FTZ, 400FTZ, AF360FGZ, AF540FGZ |
| Others: | YONGNUO YN462, YN460,YN460 II, YN465,YN467 Nissin Di866, Di622, Di466, Pz400, 34Di, 34iAF and even more....with similar size |