BRAND NEW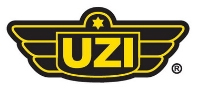 Uzi Pro Series - Police Hand Cuffs
Black Plated Steel
DOUBLE LOCK WITH TWO KEYS
"DESIGNED FOR OFFICIAL POLICE USE"

Stronger, thicker, and heavier, the UZI Professional Series police hand cuffs are designed for official police use. At .375" and 10 oz., the UZI Professional police hand cuffs are comparable in weight, thickness, and strength to their more expensive Smith & Wesson counterparts. They're also thicker (.375" to .25") and heavier (10 oz. to 8.6 oz.) than the standard version of the UZI handcuffs.

These police hand cuffs are very reasonably priced compared to other name brands.
TO LOCK
Single Lock- Press cuff firmly against the wrist and rotate the jaw until ratchet is engaged. Thighten jaw as required
Double Lock- With cuff single locked on the wrist, use tip pn key handle to pepress plunger on top edge of cuff. Jaw is thus locked for any movement in either direction
TO ULOCK
Single Lock- Rotate key one quater by turning clockwise. Do not use undue pressure, but be sure to turn the key in the proper direction
IF DOUBLE LOCKED
Rotate key counter-clockwise to release the double lock, and then in opposite ( clock-wise) direction to disengage the fatchet. Do not apply undue pressure.
Specification:
Made of Black Plated Steel
Brand new in original box