!!! BRAND NEW !!!

AUTO FOCUS MACRO EXTENSION TUBE SET FOR CANON XTETC
"3 Extension tubes 13mm,21mm, and 31mm"
For
CANON EOS
FULL 2 YEAR FACTORY WARRANTY
Description
Extension tubes are designed to enable a lens to focus closer than its normal set minimum focusing diatance. Getting closer has the effect of nagnigying your subhect ( making it appear larger in the viewfinder and in your pictures ). They are exceptionally useful for macro photography, enabling you to convert almost any lens into a macro lens at a fracton of the cost while maintaining its original optical quality.
This is used by attaching between camera body and lens of the 35mm single-lens reflex camera. It comes as a set of 3 tubes of different lenghts which singly or in combination makes it usable in 7 different lengths. It couples perfectly with the camera's automatic diaphragm. With cameras of TTL.AE(Through-the-Lens, Automatic.Exposure) type it gives perfect coupling except when combined with electronic flash EAE unit.
Tube diameter: approx. 62mm
BEFORE SHOOTING
How to attach to Camera- Attach to camera or detach in the same way as attaching or detaching the camera's master lens.
Procedure for attaching to camera- With Canon typeof tube, be sure to attach master lens only after tube has been properly attached to camera body. Take care not to mistake this order lest it fails to couple with the TTL meter or the AE mechanism. This, however does not apply to other type of tube.
Order of combining the tubes- When using 2 or 3 tubes in combination the can be comvined freely.
Compatibility of Lens- Suitable Lenses are from standard to semi-telephoto as well as macro (micro) lenses. Wide-angle and Zoom lenses are also usable. but depending on how the lens is combined with the tube distance between lens front and subject may become extrmely close.
ON EXPOSURE
When using TTL AE Camera- If Auto Extension Tube is correctly attached, if not only couples with the automatic diaphragm but also with TTL meter and AE(EE) mechanism. As the exposure factor will be automatically corected you can shoot according to the camera's directions.
When Using Non-TTL Camera- As correction of the exposure factor becomes necessary adjust the lens aperture or shutter speed accordingly before the shooting.
When Using an Independent Flash unit- Calculate the F-value from the Guide Number, make correction for exposure factor and after using this for maiking test shots abtain your correct exposure.
OTHER PRECAUTIONS
In Close-up shooting, as the subject's depth of field becomes shallow, never forget to stop down the lens.

Take care that when image magnigication ratio increases camera shake is also liable to increase. (The use of tripod and cable release is advisable

In the case of a TTL camera, the backfow of light form the viewfinder will nave a stronger effect on light metering when Auto Extension Tube is attached than when shooting with the master lens alone. So when there is a backflow of light form the viewfinder follow the camera's instruction book to cut it out.

Focus is adjusted by changing the distance between subhect and camer or by operating the helical divice of the master lens. If focusing is done by the split-image matching method it causes increase in exposure factoer and may darken either the top or bottom half oth the image. In such a case obtain focus on the matt surface around it.

The Canon Tyoe of tube is for exclusive Al system lenses (unusavle for other convetional lenses).
SAMPLE PHOTOS WITH 18-105MM LENS
SAMPLE AT 18MM
SAMPLE AT 105MM
SAMPLE WITH 13MM EXTENSION @ 105MM
SAMPLE WITH 21MM EXTENSION @ 105MM
SAMPLE WITH 31MM EXTENSION @ 105MM
SAMPLE WITH 13MM 21MM AND 31MM EXTENSION @ 105MM
Designed To Decrease focal length of prime lenses while maintaining full
auto focus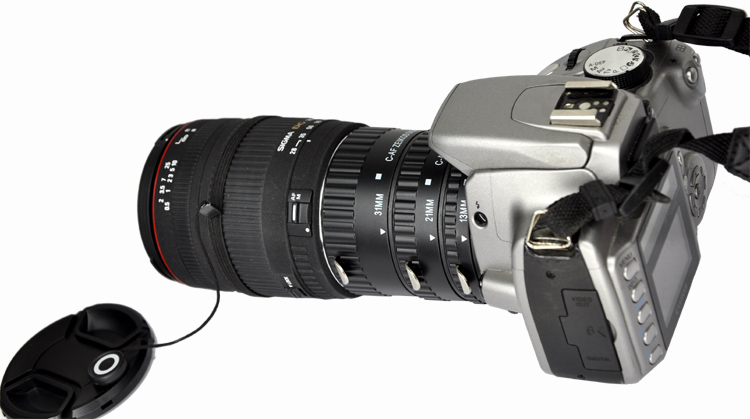 SAMPLE CHART